Saturday the 22nd of January will quite probably be a day that future generations will read about in the history books in years to come. As it is the day protesters stood together with NHS staff who laid down their uniforms in protest of the COVID 19 vaccine mandates.
The NHS100k, is an initiative that was set up in November 2021 by ambulance workers with an aim to connect the 100,000 health and social care staff from across the UK who are saying no to the mandate.
The group who are in support of freedom of choice arranged participation in the protest which was to see hundreds of thousands of protesters flock to cities all over the UK and central London at the Worldwide Rally for Freedom.
NHS100K was there to raise awareness and demand an end to the mandatory vaccine that could see more than 100,000 NHS workers lose their jobs.
The Mandate
This is following the government ruling which comes into effect in April, ­demanding all health workers in England that have "direct contact with patients" are double jabbed. 
The decision means the staff must have their first jab before the 3rd of February 2022 to enable them to have their second dose before the April deadline and NHS trusts have been instructed to then start the process of ending their employment.
With only a few ­workers expected to be able to be transferred to non-patient-facing roles, the job losses will have an adverse effect on the NHS which already had 100,00 job vacancies pre-plandemic and it is also coming at a time when record numbers of health workers are off sick or self-isolating.
NHS Staff Lay Down Their Uniforms
Nevertheless, the protest showed footage of the NHS workers advocating for their civil liberties and despite the impending loss of their careers were standing united in favour of freedom of choice, bodily autonomy, and informed consent.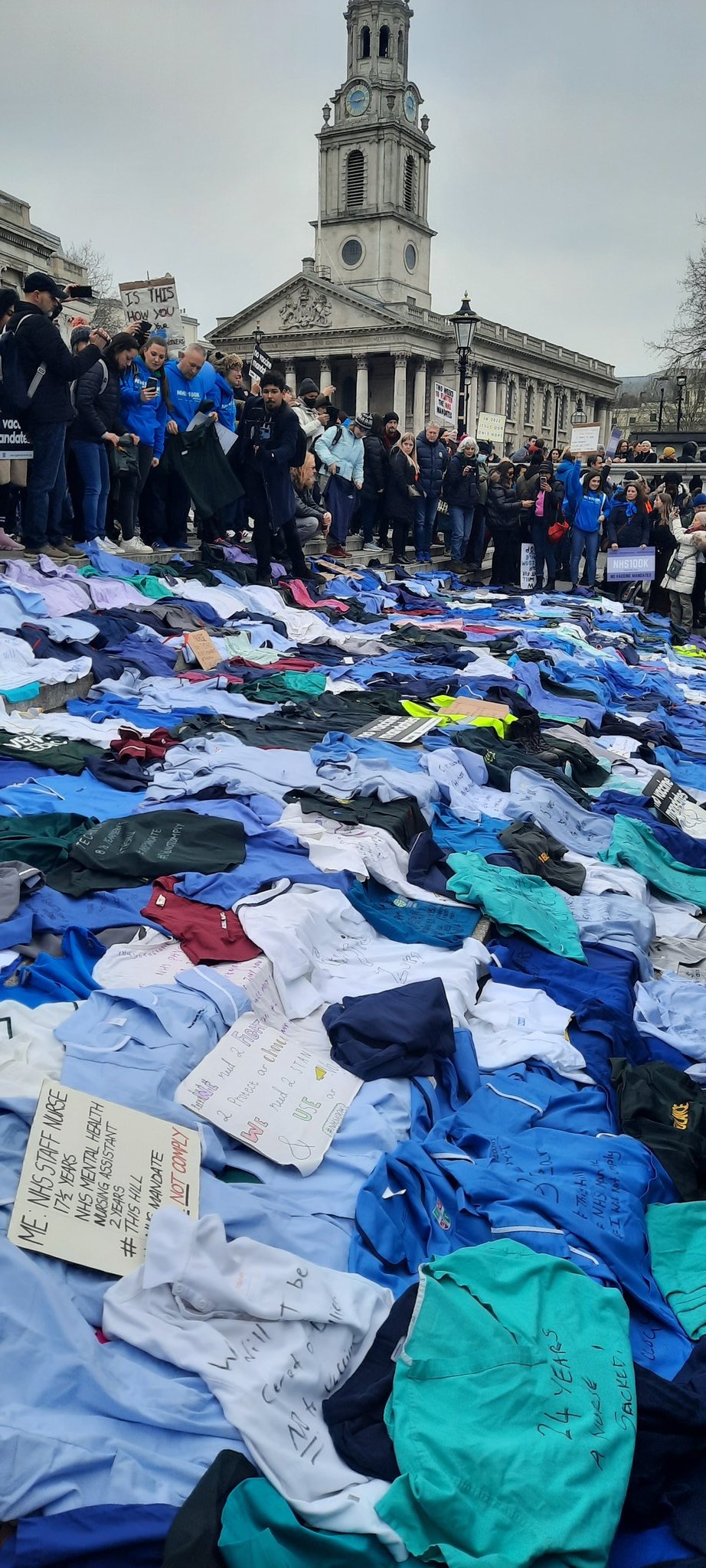 How can "clap them then sack them" possibly be OK? was a question that the group Together asked Health Secretary Sajid Javid in a Tweet. "This mandate needs to stop Unethical, illogical, reckless," they said.
NHS100K believes that it is up to the individual to give informed consent to any medical intervention and should be based on the individual having access to all of the information, good and bad, that they need to come to such a decision.
They say that "The freedom to give/not give informed consent should be afforded to every individual (with capacity), regardless of race, religion, creed, belief, gender, or career/employment status. Mandating a medical intervention removes such freedom".
"In the proposed government mandate, there are no exemptions based on religious or moral beliefs. This is an egregious infringement of Article 18 of the Universal Declaration on Human Rights".
An Emotional Day
The NHS workers also felt that it was not only an infringement on their rights, but also that the principle of consent is an important part of medical ethics, in a letter sent to their union the group said that "many of us as frontline clinicians champion these fundamental rights on a daily basis"
"These rights, including the freedom to choose or decline vaccination against covid-19 should be extended to everybody, including health care and social care workers".
"What we're concerned about is the precedent that it will set," said Lilith from NHS100K,
"if you can mandate these vaccines for the NHS when will it start occurring in the public" They also said that the workers were prepared to sacrifice their jobs.
Support and Solidarity
The NHS staff received messages of support from both the public and their colleagues, some of which, although having had the jabs themselves, were not in support of the vaccine mandate.
With so much support from protesters many of them also from the medical profession, we can only hope that it sends a strong message to the government that it is a big NO to vaccine mandates from the people of the UK!
Categories: Uncategorized